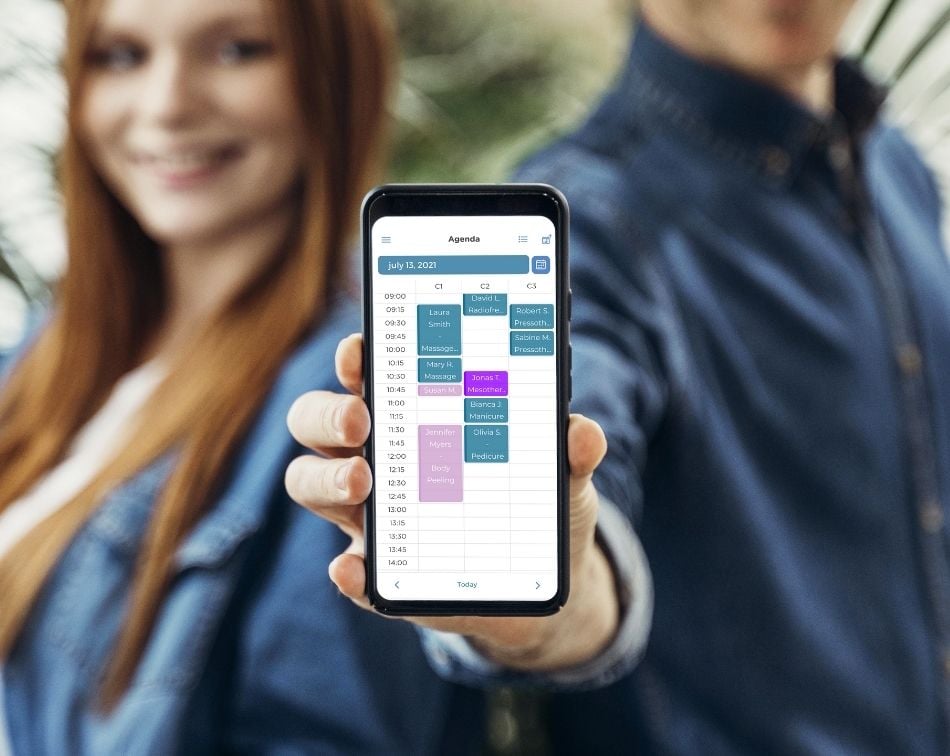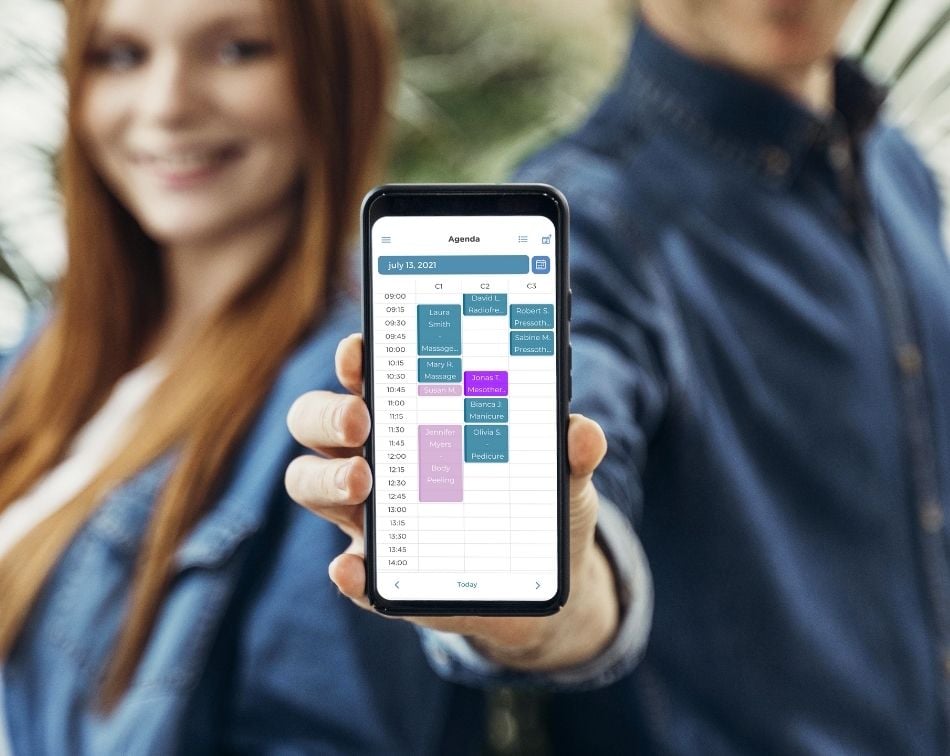 Features release! This time our news is about our management app FLOWww Me. If you don't know about it yet, we can help you to catch up. FLOWww Me is the mobile device version of FLOWww. A native app for smartphone and tablet that you and your team will be able to use to manage day-to-day tasks of your business from anywhere: from the treatment room or outdoors.
With this app you will be able to access your online appointment book (from which you can make appointments, manage different changes or actions on them, validate them to proceed to collect...) and your customers database to fill out their files with new information, check their history or even proceed to the digital signature of medical data and other files.
This app has turned into a must for a lot of businesses that work with FLOWww. So that in order to adapt to new trends, we updated its appearance and navigation through sections and, moreover, we added the opportunity to work with the appointment book as an alternative to the former appointment list! Two ways to display your appointment book: easier and more flexible!
To present you this update we will show you the new appearance and how these new key features work. You'll love it!


FLOWww Me, your favourite App, new design and easier to use now
A more user-friendly new design with an easier use and new features
White and blue, combined with grey and two green tones, represent the own colour palette of FLOWww. These colours are present in buttons, links and labels of date and time to get a fresher and trendy appearance.
Regarding the navigation through different screens of the app, you will find a better speed, more fluent change in your screen and a more innovative way to present the different options. So far, the navigation was 100% linear, but after this new app update, you will be able to display all the options horizontally and vertically. Also you will be able to display new pop-up tabs in the main display.
Everything works in a more intuitive and organic way, which will allow you to access your appointments, customers´ files or any other option. All this is easier and more agile. If you master the functioning of your FLOWww system, this app will enable you to take it one step further, being an extension of the system where you can find everything in just a few clicks.
For example: once you access the app, you will land into an appointment daily list. If you own several salons and you want to view the calendar of only one of them, you just have to click on the 3 horizontal lines located on the upper left corner. After this, you will access your menu where you will find 2 key features available for you, the logout option and, also, your salon directory on the lower part.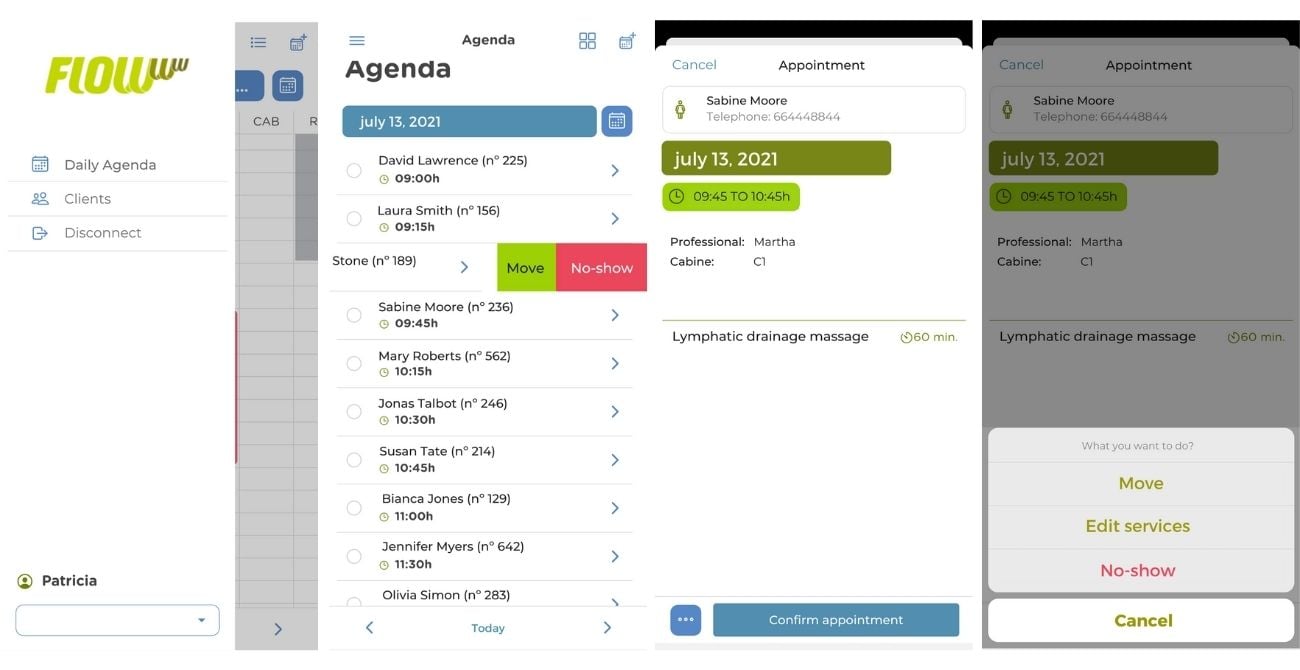 The appointment book: the best way to display all your daily appointments and its organisation per treatment rooms or assistants.
Let's go deeper in the use of the new feature of the Appointment Book. With the new app update we have optimised and improved the design of the appointments list and we also have added the option to change the visual. As you can see on the following image, when you click the button located next to the "New appointment" one (calendar with + symbol), you can switch the visual of your calendar and your appointments for the current day.
The new Appointment Book of FLOWww Me is inspired by the calendar of FLOWww, which also organises the appointments per treatment rooms or assistants, and marks them in color blocks according to the type of treatment and the customer name written above.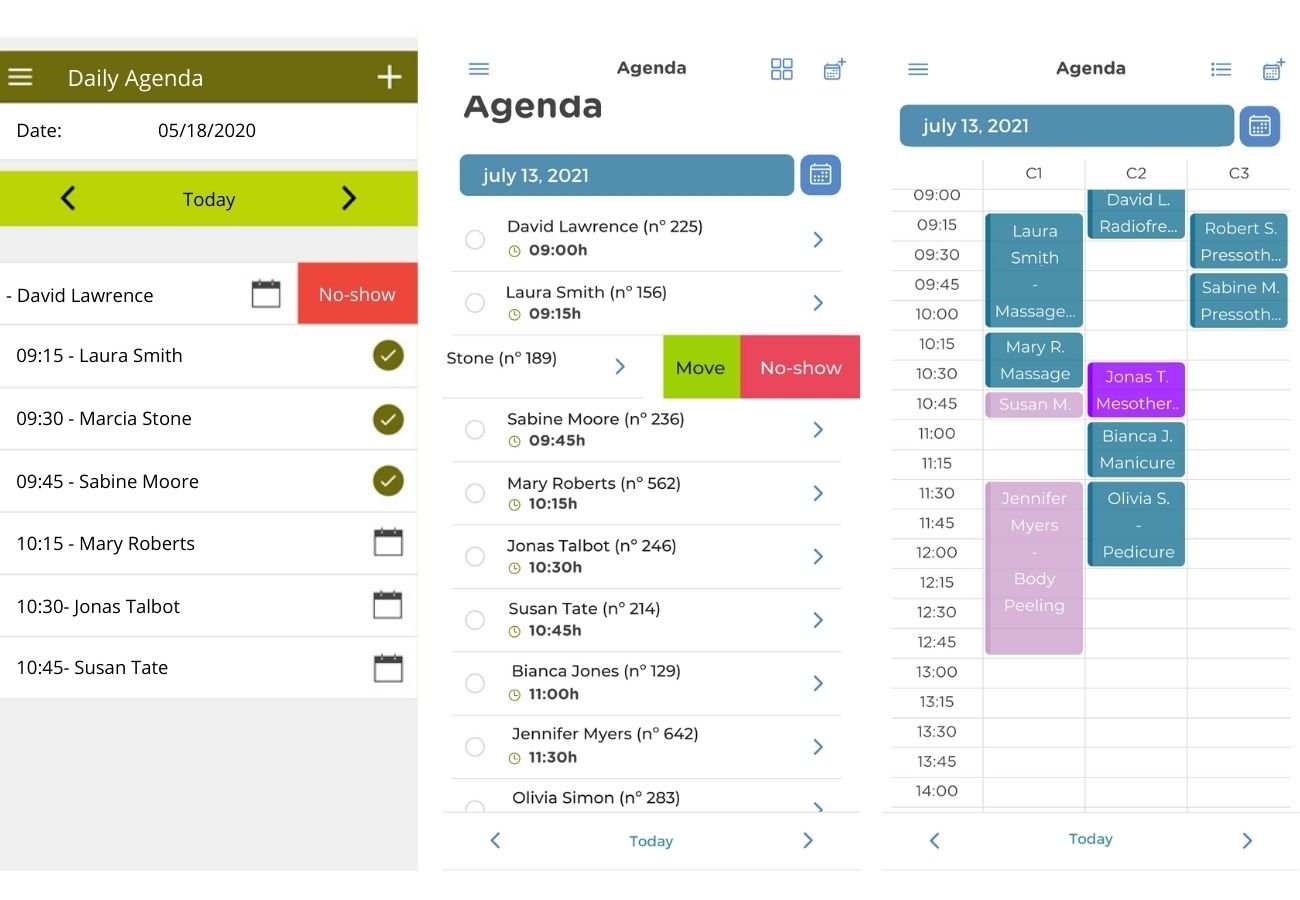 What else should you take into account when using the new version of FLOWww Me?
1. Have you set up the digital signature of sessions?
A. No, I don't. Then, when you click 'validate', you will just have to select the necessary set-ups and click 'Save and collect'.
B. Yes, I do (optional). When you click on 'Save and collect' the signature screen will pop up. This will give you the opportunity to collect the customer's signature after the treatment session. In case your customer does not want to perform this action you can click 'X' to shut down.
C. Yes, I do (mandatory). When you click 'Save and collect', a signature screen will pop up and you will not be able to continue until the customer has signed.
After validating the appointment a receipt with the name of the customer will appear in the section 'List of Receipts' in your FLOWww system.


2. Distinctive features of the appointments display.
The appointments booked through the FLOWww Me app do not have a special sticker in the Appointment Book of FLOWww. They will be inserted as native appointments of the system.
Multiple appointments appear in FLOWww Me as individual appointments with the same characteristics.
---

How did you like it? If you want to know more about this app and how to make the most of it, contact our Customer Service Team through your FLOWww system, clicking on 'Help' button. So that you can start a chat, make an appointment with one of our consultants, call directly or open a ticket.
If you are not a client yet but you would like to work with a management solution for your team like FLOWww Me, just request a personalised demo now.