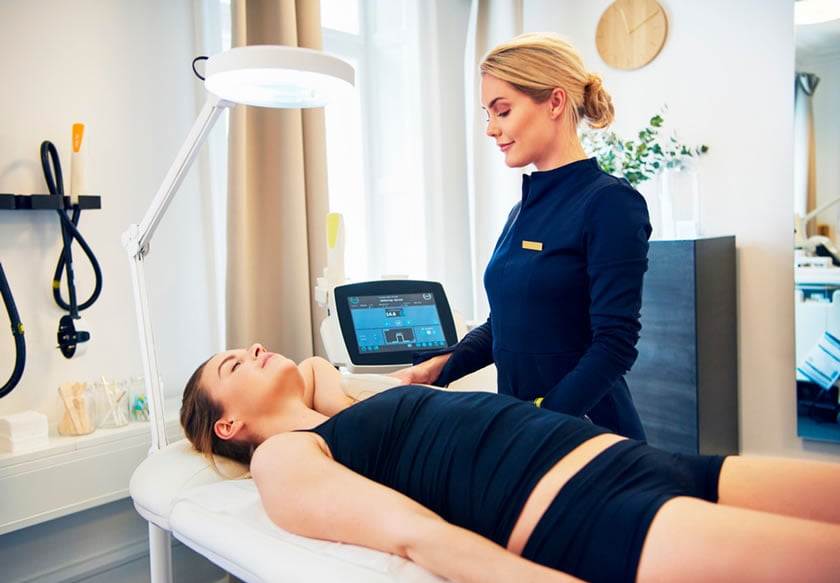 If you have just opened a beauty or aesthetic center or new cabins in your business, dedicated to the realization of aesthetic treatments, both facial and body, you should take into account a number of factors before starting to shape them. From the decoration to the equipment and protocols to follow in each treatment.
When preparing your beauty cabin to receive your clients, you should create a list of everything you are going to need to make it look perfect, well cared for and equipped. To help you achieve this, in this article, we will tell you everything you need to know to shape your facial, body or laser beauty cabin. So, help yourself to a cup of coffee, take your pencil and notebook, sit down and pay attention to each of the points in this practical guide. Take notes!


Your beauty business. Design, procedures and tips
1. Size of the beauty cabin.
The size of your cabin is one of the most important issues you should consider. When planning the space, you will have to create different areas:
a dressing area, shower, a mirror and storage for the client's clothes and accessories.


the central area for the stretcher, surrounded by enough space to place the equipment and be able to move freely.


space for the shelves and wardroves where you will place your towels, work materials and products.


a mini-shelf with wheels to have the products you will use during the service at hand. As it is a small piece of furniture, it will take up little space and you will be able to place it near you, without it bothering you.
a clear entrance area, with a coat rack and enough space to close the door.

With this, we want to emphasize that not just any room is good for installing a beauty cabin. Do not choose a 2x2 or 2x3 space to install, because it will be very tight and will give a claustrophobic and chaotic feeling, because you will not have enough surface to place the cabin, move and store your materials. Ideally, you should choose a spacious room with a large window and a door that allows easy access.
Above all, you should take into account some cabin protocols and basic issues, such as the need for a closed and intimate room, which favours the customer's privacy during the service and allows you to condition the room properly with a temperature of 23-26ºC, a soft and pleasant smell and a cold and diffuse light. In addition, the decoration of the cabin and its distribution, should promote the relaxation of the client and even help to stimulate each to a future sale.
2. Stretcher.
Invest in a quality stretcher that adapts to different postures and is made of resistant materials. Besides being comfortable, it has to be robust and stable to support weight, movement and daily use. To make it last long, protect the stretcher with an adjustable bedcover made of anti-stain fabric or cotton, which is easily washable, and then, with each service, with a disposable paper sheet in soft colours.
3. Materials for treatments.
Depending on the services you offer in your beauty centre and in this cabin in particular, you will need to have a series of materials. For example, this category includes both disposable materials (paper, wet wipes, cotton, gloves, disposable needles and heads, razors, etc) and consumable materials (oils, creams, masks, wrappers, etc) and washable materials (towels, brushes, bowls, spatulas, etc). All these materials and products of internal consumption, you can manage them with FLOWww, with our tool of 'Stock Management'.
4. Clothes for the customers.
Having clothes to cover the clients during the treatment is also one of the important points. It goes without saying that these must be soft, clean and hygienic after each use. For example, the textile section of your beauty cabin may consist of body and hair towels, bathrobes, sheets, turbans or headbands, and of course, disposable textiles such as hats, gowns, panties, thongs and briefs, and booties (crubes for you and to prevent the client's feet from getting cold).


5. Equipment.
The choice of the equipment in your cabin will depend on the treatments you are going to carry out in it. When you choose it, you can opt for a new and high technology equipment rental or for the purchase of second hand equipment, but of high quality and proven results. Here we will tell you how to choose the equipment for your beauty salon and how to make the most of it.

Apart from the equipment that you will use for your services, you will have to have standing lamps, dirigibles with a good light and magnifying glass, to help you pay attention to the details of the client's skin and thus be able to provide better attention and maximize the results in the area to be treated.


6. Technology.
Last but not least, in your beauty salon you must reserve a space for technology. Apart from the aesthetic equipment that you use for your advanced beauty treatments and aesthetic medicine, you must have a tablet or mobile phone, in which you have installed FLOWww Me, the native app of FLOWww for mobile devices. This way, from your cabin, you will be able to capture more information about your clients and write it down in their file, validate their appointment on the spot and proceed, after the session, to give them a new appointment for their next visit, before your agenda is filled.

This way, everything you do from FLOWww Me, will be immediately reflected in each of the areas of your software for aesthetics: a new appointment in the agenda, a validated appointment ready to be charged and new information in the client file, added in the comments section. Also, with our management and marketing software, you can organize the activity of the cabins and assign to them, equipment, staff and appointments.